At times, it's necessary to infuse the classroom with a little energy. Energy can be used to accomplish objectives. Below, I'll share with you 3 tips to create a productive burst of energy.
1. Rapid Review
This quick 60-second strategy is great to begin the class or as a transitional activity. Check out the video below for the details.
2. Tap-Clap-Snap
This simple exercise adds a little rhythm into the room. Rhythm is an invitation to participate. Obviously, you are free to use your creativity when using this method. Here is an excerpt from the article I read that explains the exercise:
The author designed a challenge which involves rhythm and the whole group. After a learning module was finished the instructor presented a series of slides with different diagnostic challenges (X-rays, skin lesions or retinal conditions). Each student declared his or her answer by making a sound such as a tap clap or snap according to a previously agreed scenario. For example students are asked to tap if they spot a retinal detachment clap for diabetic retinopathy and snap for otherwise. Feedback is prompt informative, reinforcing, game-like and competitive.
After reading the directions, what ideas come to your mind? How can you use this exercise? Please share your thoughts in the comments below.
3. Hand Signals
Hand signals are a fun way to encourage students to engage. They allow students the chance to communicate their thoughts in a non traditional way that can also be less intimidating. And because they are non-traditional and physical, these kinds of activities tend to bring a burst of energy into the room. The hand signals below come from an article I read that was filled with Culturally Responsive Strategies.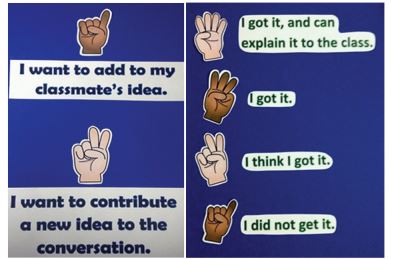 What's your go to activity to infuse some energy into the room? Please leave a comment below.
MB
---
Enjoying the content? Please consider partnering with us to spread the message with a donation via PayPal. You can also use this link whenever you shop at Amazon and give us a much appreciated commission on your purchase.