Using positive consequences in the classroom can transform your classroom leadership. Classroom leadership that employs positive consequences encourages students to take ownership of their learning and and pay closer attention to their decisions. This is the ultimate goal. Additionally, empowered students are able to run towards mastery with the wind to their back. This environment is open and sometimes, seemingly chaotic. But students can thrive in an environment fueled by positive consequences. In this environment, the DON'T'S aren't emphasized or posted on a wall for all to see. Instead, the positives are sought out and celebrated frequently.
The connotation that comes with negative consequences is …… negative. While they may have worked with great success in the past, the present-day teacher is challenged to evolve and adapt. This doesn't mean students aren't held accountable. I'm submitting to you that positive consequences can help you to hold students accountable.
Positive consequences add focus
For example, if students hear their math teacher profusely praising a student for remembering a step in a math problem, the teacher is sending a message to every student in the class that it would be a great decision to review the step during reflection and study time. If the student chooses not to emphasize this step during their study time, or doesn't study at all, then the door is open to have a conversation regarding accountability. The student was free to make a choice. The decision not to study the step has consequences. The decision to study the step has consequences as well. Obviously, those consequences are more desirable.
As a leader, if you emphasize the power of students making more good decisions than bad decision, you empower students and place them in position to experience multiple positive consequences. Positive consequences also lead to students having a better attitude about being in your class because they have more opportunity to associate their decisions with a positive outcome. Positive Consequences can come in different forms at different times throughout the class and school year. I have reproduced two charts from Lauren Acevedo and Maria Bastian to give you an idea of how you can flood your classroom with Positive Consequences.
Positive consequences in the classroom – Elementary School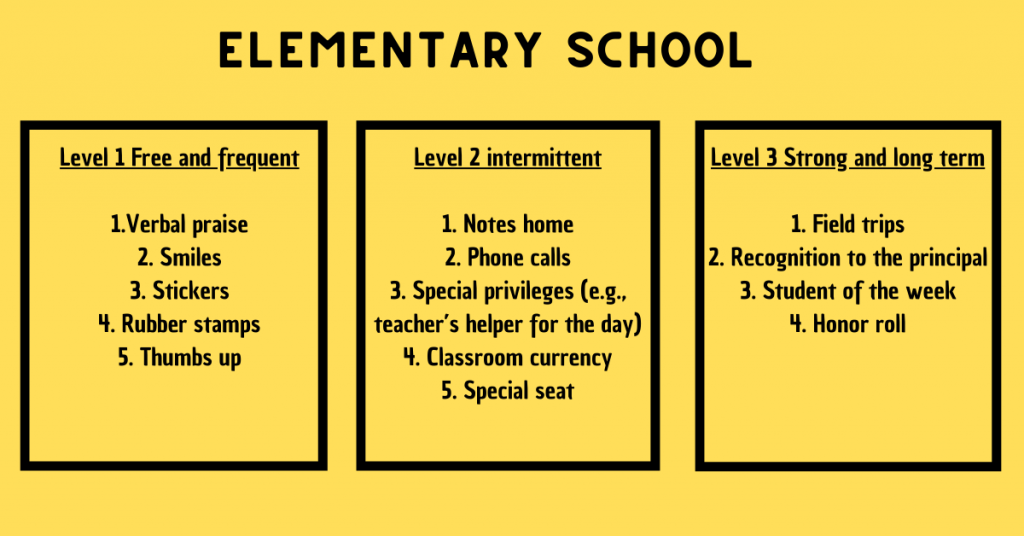 Positive consequences in the classroom – High School_Middle School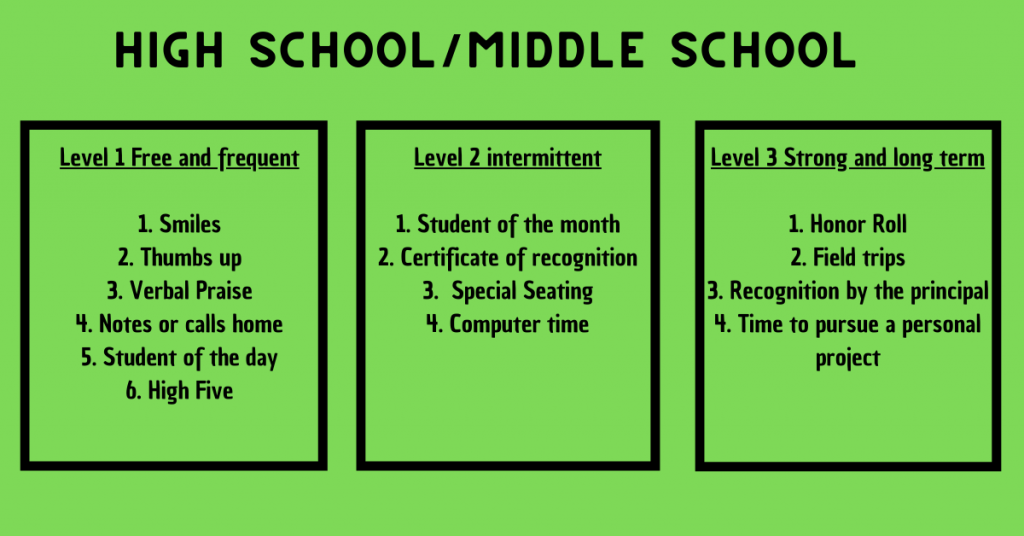 How do you use positive consequences in the classroom? Please share in the comments section.
MB
---
Enjoying the content? Please consider partnering with us to spread the message with a donation via PayPal.
Please subscribe to our newsletter to sharpen your classroom leadership skills and get updates delivered straight to you.